Operation Share
Make a Difference at Holiday Time!
Friends and Supporters of MHA, 
It's holiday time again and we've all heard that it is better to give than to receive.  To know that you are helping to make someone's life just a little bit easier or helping to make someone happy is an indescribable feeling.  As I'm sure you realize, while you are busy buying and making gifts for your loved ones this holiday season, there are so many people in need.  While most of us take for granted having a happy holiday, some among us can only hope and dream about it.
Of the 5,000 Rockland residents we serve annually, many don't have a warm home, basic necessities or the company of family to celebrate the holiday season.  We have been blessed to know them and their stories and have had the opportunity to help them along their journey to recovery.
For those of you with children in your lives, you know their joy when they open holiday gifts.  Unfortunately, there are many children and adults in our area who won't have a gift to open this year.  In fact, they may not even have a meal to eat on this special day.  But there is hope for them, and that hope is you.
At MHA, we pride ourselves on the help we have provided to those in need for so long.  However, we couldn't do it without your generosity.  There are various ways you can participate in Operation Share to help our clients and families during the holiday season.
By making a financial donation, purchasing gift cards or dropping off unwrapped toys, your gift can provide the clients and families we serve with necessities like warm clothing and food they need for the holidays. Gifts will be distributed to the children and families we serve by the caring members of our staff.
Please consider putting one more person on your holiday gift list this year.  Together, we can make a difference in someone's life this holiday season.
Unwrapped toyscan be dropped off at MHA, 140 Route 303, Valley Cottage, NY 10989 by December 14.
Donate to  Operation Share: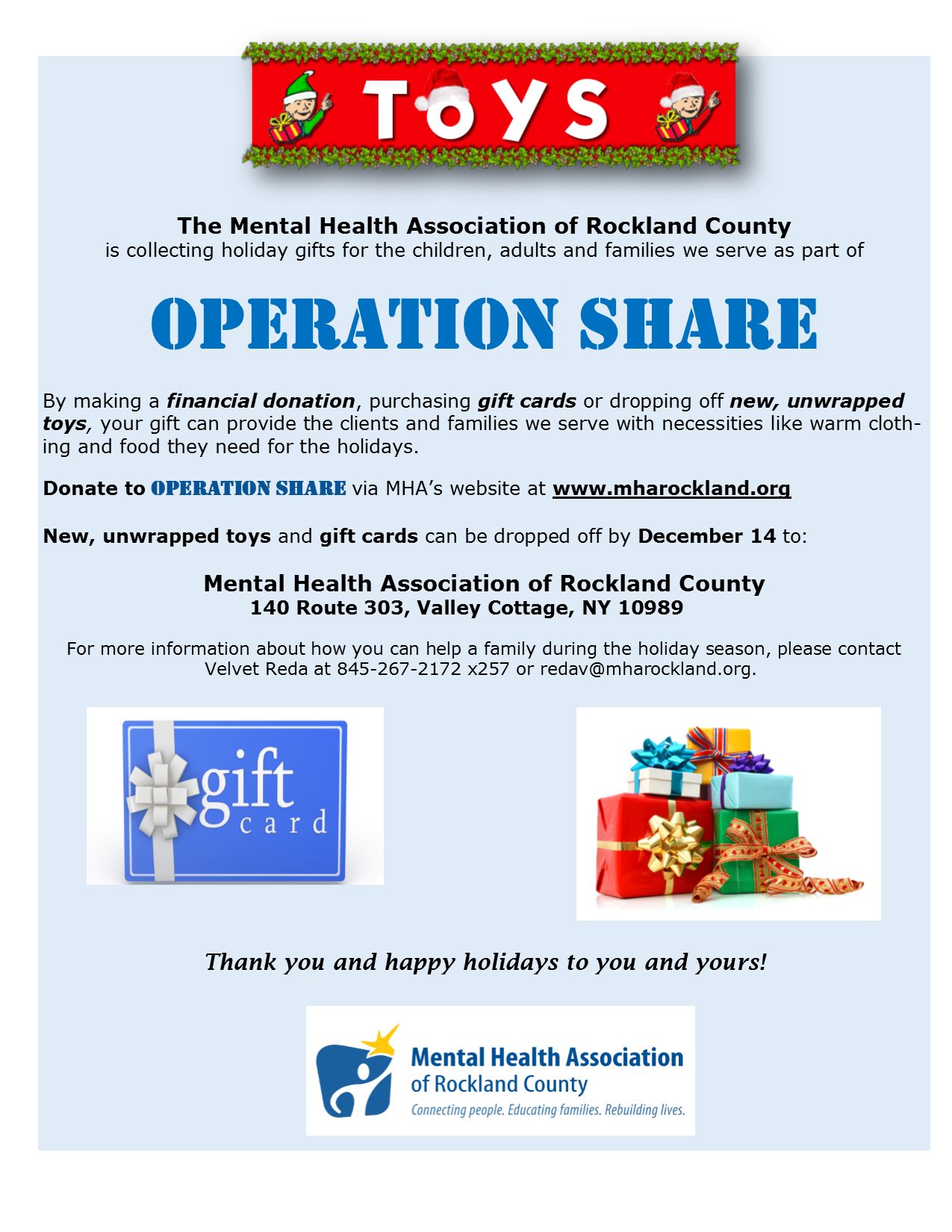 At MHA Rockland, we help people living with mental illness and/or addiction to embrace life and redefine themselves.  We also welcome and support families, friends, employers, and colleagues who care about those struggling with these issues. Since opening our doors in 1951, we have touched the lives of more than 50,000 Rockland County residents.
Connecting People
If you're trying to make a meaningful change in your life, you'll find it easier with people rooting for you.  That's why we begin to help by connecting people with similar experiences to each other.  We do this through residential services, support groups and classes, and conversations with staff who are in recovery themselves.
Educating Families
If you care about someone whose moods or behaviors have been frustrating – or even frightening – you might benefit from learning more about mental illness and/or addiction.  This can help you make sense of what has been going on.  And you can learn in a classroom setting or in one-on-one conversations with staff who are also family members. Then you can make a plan for helping your loved one – and yourself.
Rebuilding Lives
Mental illness and addiction can derail lives.  They can make you feel less capable than you actually are.  We can help you reframe your illness and define yourself not by your challenges but by your strengths and passions.  Ultimately, that is what we're all about.